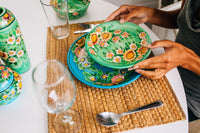 Beautifully handmade pottery by Sandy Kreyer for everyday use. Each cup, bowl, vase, and plate is hand thrown on the potters wheel, hand painted with ceramic glazes and stains and made to be enjoyed. 

All handmade pottery is food safe, can be used in the microwave, and washed in the dishwasher.

Each piece is one of a kind and completely unique.
Shop Sandy Kreyer Pottery
About
The Artist Sandy Kreyer
Sandy's passion for pottery began in her middle school art class. She immediately fell in love with ceramic arts. This love continued to grow and eventually transformed from a hobby into a business. It was in 1970 when she participated in her first art show held at the Long Beach Museum of Art. There she realized she could make her passion for functional ceramics a career. For over 50 years, Sandy has created beautiful and functional art to be enjoyed and used daily.  Sandy was born and raised in Long Beach, CA. She continues to live and work in the same city. 
The Process 
Each piece starts with raw clay.  Every item is thrown on the potters wheel into the desired form,  from there the piece is left to dry.  Once dry it is bisque fired. Then Sandy lets her creativity shine by hand painting an original floral design.  Once the glazes and stains have dried it is put into the kiln for a glaze fireing.  Sandy's work is fired at cone 10, this means the kiln gets to 2300 degrees.  This type of high firing eliminates all water from the clay resulting in a stronger and more durable product as well as giving the finished piece its shine and vibrancy.  Sandy has developed her own style of applying her stains and glazes that allows the design to "pop" and appear multi dimensional. Her designs are constantly changing and evolving. All of Sandy's work is one of a kind. Sandy is the sole creator of each piece, your purchase supports a woman owned, small business.
Where can I find Sandy Kreyer Pottery? 
Right here! Sandy's business model was in person selling. She traveled throughout California selling exclusively in person at arts and crafts shows. When online selling platforms became popular, Sandy's daughter began to slowly move some inventory online, but the focus was always in person selling.  Now you can find Sandy's pottery exclusively online in addition to one retail location, Timberline in the Glen.
Pop up shops will be scheduled, subscribe to the newlestter to be notified.
Thank you for your interest in handmade pottery by Sandy Kreyer!